The Skyline Route is a complete tour of the Skyline trail.  It gives more challenge than the 30k Ridgeline course but without the dreaded Radford Road climb.
Start in the Village of Big Bear Lake. Travel up Pine Knot Avenue and over to Knickerbocker Road. Adjacent to the historic Knickerbocker Mansion, you will find the trail head for 2N08. This is a fire road climb to the start of the single track at Pine Knot Trail (1E01), which you will continue to climb until it intersects at 2N10.
Take 2N10 Eastbound along the ridge until you find signs directing you to cross over to Skyline Trail. Take the Skyline Trail Eastbound to a fabulous Aid Station turn-around.  You'll then begin back on 2N10 to the Skyline trail cross over point and go westbound until the trail begins to wrap around back east.  Connect to 2N17 and then back onto 2N08 where you'll descend back down to the finish.
Course Description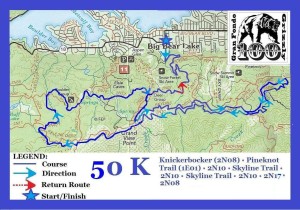 Other Route Descriptions