CHECK IN
Check in will begin at 3:00pm on Friday, October 6th, and run until 7:00 pm at the Start/Finish/Expo area at the corner of Village Drive and Pine Knot Rd. Additional check in will take place from 6:00 am – 8:00am on Saturday morning at the same location.
PARKING
There is ample parking at various locations throughout the village of Big Bear Lake.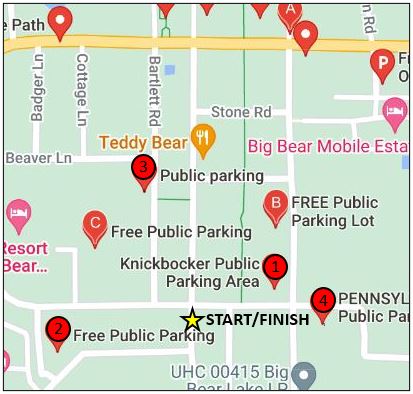 Parking lot #1: Knickerbocker Lot is at on Knickerbocker Rd
Parking lot #2: Indian Village Lot is behind Amangela's Bagel shop diagonally across the street from Northwoods Resort.
Parking lot #3: The Village and Bartlett Lot is on Bartlett Road.
Parking lot #4: Pennsylvania Lot is on the corner of Village Drive and Knickerbocker.
START TIMES
Please note that this year's start times have changed. As we will be doing laps for the longer distances this year, we have adjusted the start times accordingly to try and minimize traffic on course.
7:00am 100k
7:05am 75k
7:45am 50k
8:15am 30k
AID STATIONS:
Numerous aid stations are placed along the course. Aid stations offer water and Hammer Heed, as well as a variety of fuel. Aid stations will have a variety of items such as sandwiches, fruit, bacon, Bob's Pickle Pops and other items, along with a limited number of gels and electrolytes.
DROP BAGS:
Drop Bags must be totally DISPOSABLE. We will not guarantee return to the Base area. We recommend clearly labeling your bag to make it easier for you to find out on course.
Bags must be dropped in front of stage by 6:00am. We have 2 areas where drop bags will be sent: Zone 1 is located at Grandview. Zone 2 is located at the Lodgepole. Please mark your bag for the location and place in the correct bin.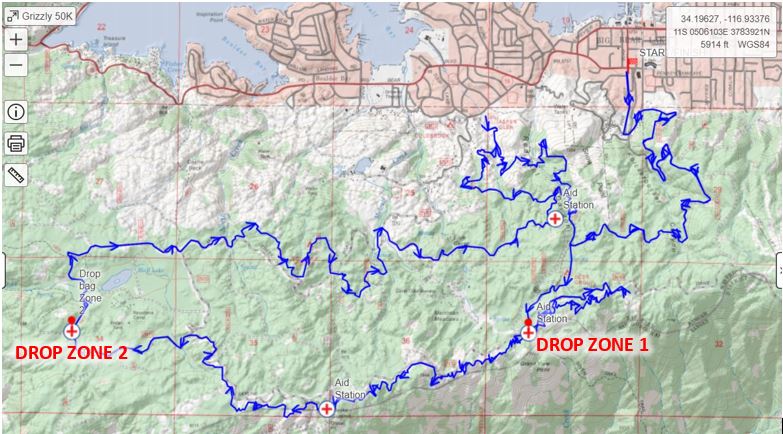 PERSONAL SAG VEHICLES:
Parking is only allowed in designated parking areas along the course route. A USDA Forest Service Adventure Pass is required for some of areas. We suggest 75/100k riders have personal SAG or family meet them at the bottom of Cabin 89 where the Pine knot climb begins. Aspen Glen is just a short hike away from where the course comes through.
CHECK POINTS:
Riders must check in on course. There are three places on course where you MUST get your plate marked if you are doing the 50k, 75k or 100k. These are located at Helipad, Lodgepole and as you begin your descent of cabin 89. You must have your plate marked on each lap. Additionally, there will be an official volunteer with a clipboard at each Aid Station and road crossing to ensure that no one gets lost, as well as to report your progress back to the event staff at the Start/Finish. The number plate is very important, so please remember the number and yell it out as your ride past a check point if you choose not to stop.
TIME LIMITS/CUT-OFF TIMES:
All courses will close at 5:00 pm. Below are the cutoff times for the 100k. If you choose to continue after a cutoff time has passed, there may not be aid stations or course marshals by the time you reach further points on the course. The emergency contact for riders who have not returned by 5:00 pm may be notified that the rider has chosen to progress on his/her own.
Grandview – 2:00pm
Clarks Grade (Top) – 3:00pm
Lodgepole – 3:30pm
Cabin 89 – 4:00pm
See you soon! The event runs rain, snow or shine!