The third annual Big Bear Mountain Bike Gran Fondo/Grizzly 100 was held this past Saturday, July 30th, 2016. We once again had a tremendous turnout of riders, volunteers and supporters. 317 riders from seven countries and 20 states descended on Big Bear Lake for the event.
The Mountain Bike Gran Fondo/Grizzly 100 offers five different courses to suit all levels of riders and racers, from the 20k ride with chair lift access to the top that included two hand cycles to the grueling 100k distance with over 8600' of elevation gain. There's something for everyone!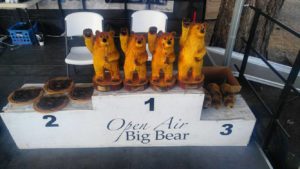 We also offer some of the best aid stations in any cycling event. Riders are treated to a variety of snacks and treats as well as Hammer products to keep their energy and hydration going. Smiling faces were on hand at every station, refilling water bottles and ensuring that everyone was attended to.  The rider favorite is always the "Heaven" aid station which sits atop of the Radford Road Climb. Angels are there to great riders who have just finished a painful grueling climb up from the valley below.
Upset Finish in the Men's Grizzly 100 NUE Event
This year's Grizzly 100 NUE race had a surprising upset finish. Twenty three year old Steven Mills racing in the Single Speed division bested first place Men's Open finishers by over four minutes. Perennial favorite Tinker Juarez commented that this was the first time in his racing career that he'd been beaten by someone on a single speed.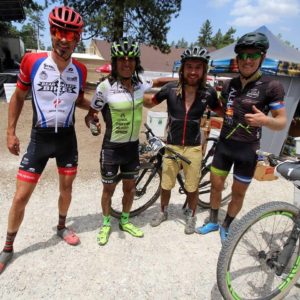 The true surprise wasn't the time, but the fact that Mills was riding a fully rigid single speed bike! Not only did Mills capture the fastest time of the event, he also broke the course record! Congratulations to Stephen Mills on a remarkable race!
Virtual Reality Filming
Another exciting part of this year's event was the virtual reality filming of riders on course by Cinematic Arts Media (CAM VR). CAM VR's filmmakers mounted a revolutionary 26 lb., six camera system onto an electric hybrid bicycle/motorcycle ridden by Race Director Derek Hermon to film riders on course. The camera set up weighed more than Derek's mountain bike so the decision was made to mount the system on the hybrid bike. The virtual reality filming system provided six different camera angles and the motions of each camera were controlled by a gyro system.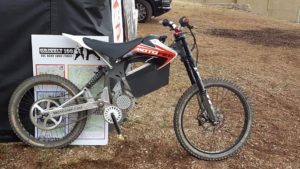 CAM VR will be compiling the on course footage to create a film of the event and there is the possibility of the film being featured as a documentary at the Sundance Film Festival this coming year.
Ride2Recovery
This year's Mountain Bike Gran Fondo/Grizzly 100 NUE event was included as part of the Ride2Recovery Century Series. Ride2Recovery is a groundbreaking veterans program that seeks to heal heroes through cycling. Their mission is to restore hope and purpose and provide a way FOR life with Vets helping Vets. Several veterans from Ride2Recovery participated in the event, including the two hand cyclists.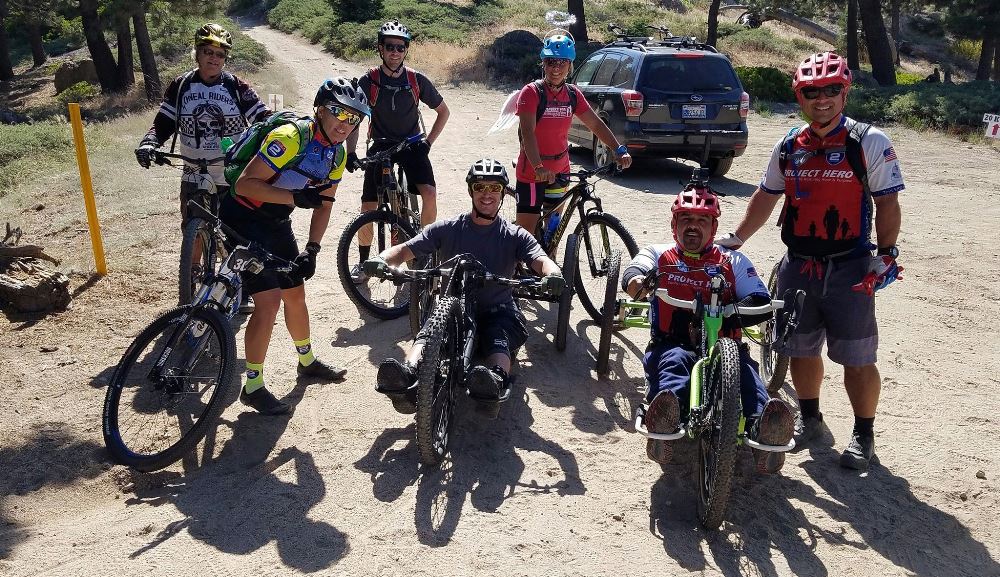 We would like to extend special thanks to Lasher Sport of Las Vegas for providing the hand cycle for one of our competitors. These guys had a blast killing it on the trails of Big Bear!
Excitement in Hell (the Aid Station that is)
Each year we've had some excitement with the weather here in Big Bear and this year was no exception. As the last two riders passed through Hell (the Aid Station halfway up the Radford Road Climb), lightning struck nearby starting a small fire. The fire was quickly contained and no one was injured as a result, however there was a lot of irony found in the fact that Hell was struck by lightning and caught fire!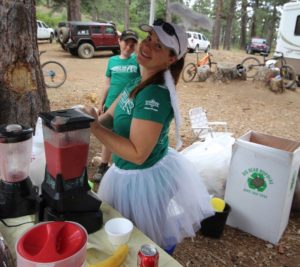 SAVE THE DATE:  The 2017 event will be held on Saturday, July 29!