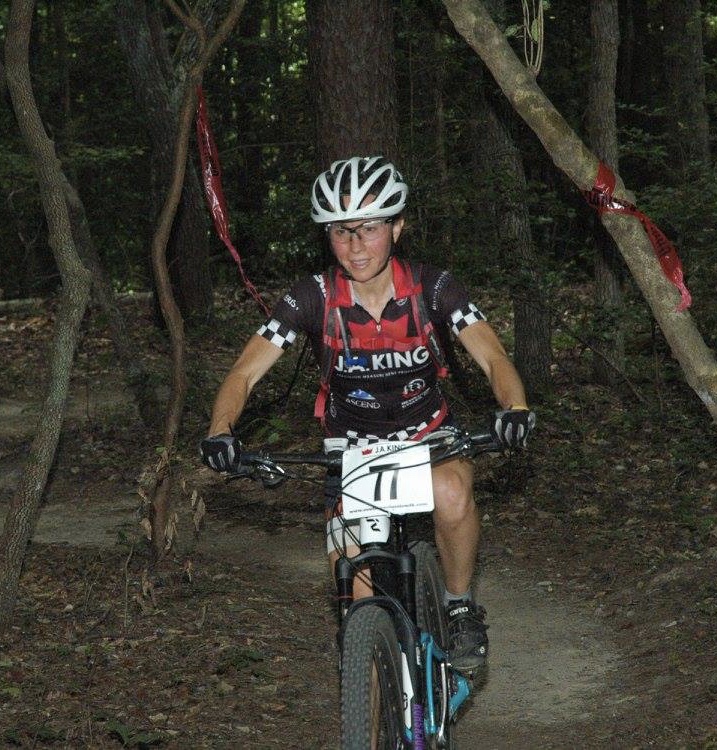 I live in Fort Mill, South Carolina and have been mountain biking for 10 years.  I ride because I love riding in nature with my husband David and friends on single track and the occasional road route, having adventures in the woods, and the challenges of technical climbing and descending.
After my first ride, which was rather a series of crashes than a ride, I started riding with the Dirt Divas, a women's only mountain biking club based in Charlotte, NC.  I've raced in 4 or so stage races including the Trans Sylvania Epic and the Breck Epic, and numerous one day endurance events.  I love the adventure, the challenge, and the amazing opportunities to explore the U.S. on a bike.
Speaking of.. I am very much looking forward to the Grizzly 75k.  I've never ridden in SoCal and the prospect of new trails are always exciting and sometimes in a terrifying kind of way.  Did someone mention steep drop offs?
Life isn't all rides, bike maintenance, hot showers and food. It's hard to train enough to race endurance events. I work full time, and was recently remarried and simultaneously became the stepmom of two children ages 11 1/2 and 9.
The balancing act of family life, kids and their activities, and work is a constant.  My husband David and I trade rides and sometimes ride together, and occasionally subject our kids to cruel and unusual activities like family rides bolstered by snacks.  We also have help from local grandparents and friends for the occasional spousal ride and race.
Speaking of riding, my most favorite, cherished place to ride near home is in the Pisgah National Forest located in Brevard, North Carolina.  I've spent hours on Pisgah trails and love the variety of terrain; the rocks, the roots, the sudden drops, and series of water bars, the late summer hornets, the long gravel climbs and the rocky single track climbs, and the hurtling descents under the forest canopy.  I love those trails.
Our region has spectacular race organizers that put on events like the Pisgah 111k and the Pisgah Stage Race, a summer cross country series, and a local race series.  There's nothing like racing on terrain that challenges your handling skills. I'm also incredibly lucky as well to have a great local trail system of 10-12 trails from 5 minutes to 1 hour away that are well maintained thanks to another local club, the Tarheel Trailblazers.
David and I are supported by the J A King Mountain Bike Team sponsored by John King and Ascend Nutrition + Coaching.  Mr. King is a strong supporter of youth cycling and racing, and mountain biking in general.  Tommy Rogers, who owns Ascend Nutrition and Coaching, manages our team.  Our other sponsors include Revolution Cycles, ESI Grips, Niner, and Industry Nine.
David and I picked the Grizzly 75k from the N.U.E. marathon series races.  We've planned on racing 4 of them, and the Grizzly will be our third race.  I am looking forward to the vistas and the adventure… no matter what happens it will be fantastic to be riding new trails.   See you soon!