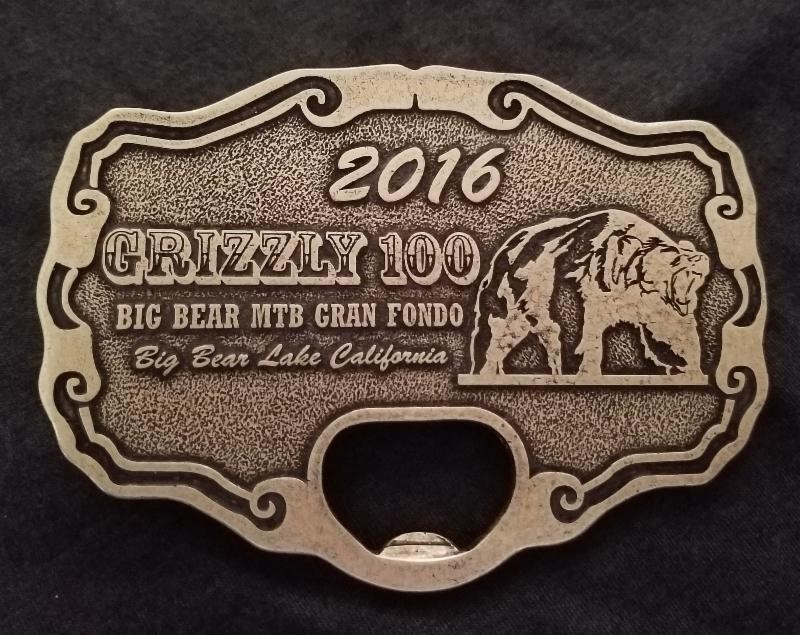 Some riders have asked what the Entry Fee includes, so here's a little explanation:
Event Registration Fee G100 G75 GF
Event Tee Shirt G100 G75 GF
Chip Timing G100 G75 GF
LIVE Results G100 G75 GF
$5,000 Total Cash Prize Awards – Men/Women G100
$2,500 Total Cash Prize Awards – Men/Women G75
$200 Total Kind/Queen of the Mountain (KOM/QOM) G100 G75
Finishers' Award – Belt Buckle (1st 100 finishers) G100
Finishers' Award – Bottle Opener G100 G75 GF
National Ultra Endurance (NUE) Sponsor Awards G100 G75
Goodie Bags G100 G75 GF
Pre-Event and Post Event Discounts at Local Sponsors G100 G75 GF
Special promotions from Event Sponsor G100 G75 GF
Themed Aid Stations G100 G75 GF
Snow Summit Sky Chair Lift Ticket (20k only) G100 G75 GF
Timing:
While the Grizzly 100 and 75 are rounds of the National Ultra Endurance Race Series, some riders choose to ride it as a personal challenge instead of a race. The Big Bear MTB Gran Fondo is NOT a race, but is a timed ride. Ride or race, whichever is best for you. Remember to give race participants the Right of Way. Show them courtesy, move over and allow them to pass.
NEW add this year…LIVE Results! Check your time right from your phone as soon as you cross the finish line. Track your place in relation to other riders. Timing and course markings provided by Team Big Bear, timers for US Kenda Cup, USA Cycling Nationals, Sea Otter and many other mountain bike and running events.
Event Shirts:
Event shirts are included in your registration, if you registered BEFORE July 15. If you did not request a shirt at the time of registration, or if you registered after July 15, you may still purchase one for $20 on site…supply will be limited.
Belt Buckles:
Belt buckles are presented to the first 100 finishers of the Grizzly 100k by Keller Williams/Big Bear-Lake Arrowhead. We are happy to have them with us this year!
Event runs rain, snow or shine! This event will take place regardless of weather conditions, so please come prepared. The Start/Finish is at approximately 7,000′ elevation and may go as high as 8500′ or as low as 3500′. Although it is generally in the low 80s, the weather has been known to go to 90 degrees; and if weather comes in, it could be quite chilly at the top. Be prepared!